Production Management System
All project scales, from mass production to high-variety low-volume manufacturing, completely covered.
Same-day delivery of 3,500 varieties of pipes available with 4 days lead time
Using advanced technologies its developed since its founding in combination with state-of-the-art facilities, Fuso Industries Ltd. has been processing and assembling ultra-thin to specially-shaped thick gauge pipe arrangements of optimal quality for commercial to residential air conditioning systems.
Our production system can accommodate the full range of customer needs, from large-scale mass production to high-variety low-volume manufacturing.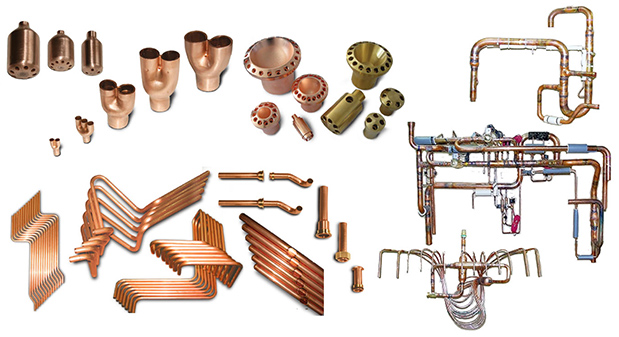 A production system that utilizes CAD/CAM from order receipt through to delivery
Fuso Industries Ltd. is a pioneer among its competitors in that it quickly adopted computerized systems to improve production efficiency and production management. We currently utilize an online system that directly connects our major customers to our production plants and allows us to exchange order data, delivery instructions, product configurations, and blueprint data all in real-time. Additionally, our electronic sales order processing system, proprietary blueprint data management system, and direct-connect CAD/CAM production facilities, all come together to minimize lead-time between order receipt and delivery and make stockless production possible. As a result our production efficiency is extremely high, and has led to the creation of our unique system where 3,500 varieties of pipes can be rapidly manufactured and then delivered all in one day.